SAMPLE ORDER FORM PAGE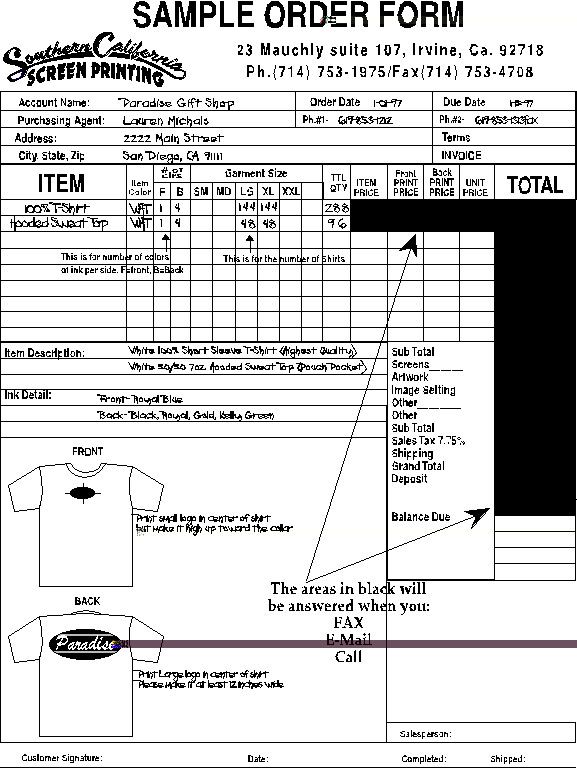 Click HERE to get a clean order form for Printout.
I Printed out a copy and now I'm ready to move on SCSP Products Page
How do I Order Some Stuff?
The best thing to do is first browse through our Web-Site and familiarize yourself with our services.
After you have seen all that you need to see to figure out what you want
Write down as specifically as you can, and in as much detail that you can, what it is that you want. Try to answer the suggested questions.
Formulate and make note of any questions that you might have.
Fax us at 949-753-4708 (we will return your fax ASAP). If it's during our regular business hours you can call 949-753-1975
I'd like more info on ordering, so take me to Ordering Information
Contact Information

Our office is open regular business hours. Monday-Friday 8:00am PST - 5:00pm PST. If we're not in when you need to talk to us just fax us or E-mail. We'll get back to you the next business day.

Toll Free

1-800-859-1975

FAX

949-753-4708

Telephone

949-753-1975

Postal address

23 Mauchly Suite 107
Irvine, CA 92618

Electronic mail

General Information: info@socalscreenprinting.com
Sales: info@socalscreenprinting.com
Last modified: March 04, 2017

Terms and Conditions, Copyright and Disclaimer © AI, Inc. 2000-2017 All rights reserved.